Hip Arthroscopy
Expertise in Hip Arthroscopy
Until recently, the only thing limiting your active lifestyle was the number of hours in the day. Lately, however, instead of choosing between jogging or cycling, you're faced with the choice of enduring the hip pain you feel from these activities or refraining from physical activity completely. Even simple things like bending down to pick up your child or kneeling to enjoy time in your garden have become troublesome.
Almost as difficult as coping with these challenges is the fact that you are far too young to be faced with chronic hip pain. But in reality, a variety of hip conditions affect countless people under the age of fifty. Traditionally, many of these conditions have gone untreated simply because a practical treatment option was not available. Thanks to arthroscopic hip surgery, this is no longer the case. In fact, minimally invasive hip procedures may give patients the pain relief they need with smaller scars and less postoperative pain than open surgeries. This means patients can enjoy a quicker return to the physical activities and lifestyle they enjoy.
What is Arthroscopic Hip Surgery?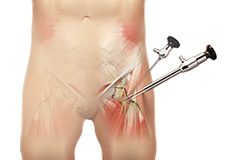 In the late 1970s and early 1980s, arthroscopic surgery became popular, especially in the sports world, as fiber optic technology enabled surgeons to see inside the body using a small telescope, called an "arthroscope," which projects an image to a television monitor.
Thanks to ongoing improvements made by technology leaders like Smith & Nephew Endoscopy, the benefits of arthroscopic surgery for knee and shoulder conditions have been experienced by patients all over the world. By adopting techniques and instruments similar to those used in knee and shoulder procedures, arthroscopic hip surgery has become a more widely-used treatment option for those who suffer from hip pain.
Arthroscopic procedures may be used for a variety of hip conditions, primarily the treatment of labral tears, hip impingement, articular cartilage injuries, and the removal of loose bodies in the joint. Other less frequent conditions treated through hip arthroscopy include tendon or ligament injuries, hip instability, and an inflamed or damaged synovium. Because all of these conditions may eventually lead to hip arthritis, treating them with arthroscopic procedures may be a beneficial option for patients.
Through an incision the width of a straw tip, your surgeon is able to insert a scope, which allows him or her to inspect the joint and locate the source of your pain. Your surgeon will then make one or more small incisions to accommodate the instruments used to treat the hip. These instruments can shave, trim, cut, stitch, or smooth the damaged areas.
Arthroscopic hip surgery is usually performed in an outpatient surgery center, which means no overnight hospital stay is required. You report to the surgical center in the morning, undergo the procedure, and – following a recovery period under the care of medical professionals – return home later in the day.
Who is a Candidate for Arthroscopic Hip Surgery?
In the past, patients suffering from hip problems had limited options. In most cases, they were forced to live with the pain until a total hip replacement was required. With the advent of arthroscopic hip surgery, however, there are now less invasive treatment options available that can provide relief or significant improvement for a number of conditions.
Most people who suffer pain or experience decreased mobility due to hip impingement, labral tears, cartilage injuries, loose bodies in the joint, or other conditions may benefit from a minimally invasive surgical procedure. The information here will help you better understand the anatomy and function of the hip and will guide you through the steps of arthroscopic surgery used to treat hip conditions.
Hip Impingement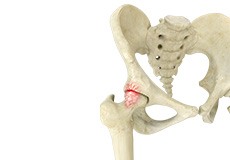 Hip impingement is a disorder caused by a lack of room, or clearance, between the head and neck of the femur and the rim of the acetabulum. Due to this lack of clearance, when the hip is flexed, as in many common activities like running, sitting or bending over, the femur and the rim of the acetabulum rub together, causing significant pain in the joint. As a result of extensive contact between the femur and acetabulum, the labrum may suffer damage, slowly degenerate, and may even cause arthritis in the hip over time.
Hip impingement is more common in athletic men, and any athletic or strenuous activity may further aggravate pain in the groin area caused by impingement. Remaining in a stationary seated position for extended periods of time may also aggravate the condition. If conservative treatments are unable to relieve the pain you feel from hip impingement, your doctor may recommend arthroscopic surgery.
Labral Tears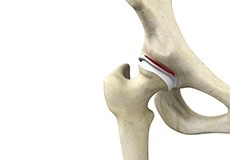 The labrum is a layer of fibrous cartilage that lines the rim of the socket in which the ball of the femur sits. This cartilage provides cushioning for the joint and keeps the femur in place. A tear in the labrum can result either from injury or from degeneration due to impingement or other joint conditions.
In some cases, labral tears are not significant enough to cause symptoms and therefore don't require surgical treatment. But occasionally they can cause symptoms such as locking or "catching" in the joint and pain in the hip or groin area.
Since labral tears are often difficult to detect during a physical examination, your doctor may use magnetic resonance imaging (MRI) with a dye injection to confirm the diagnosis. Once the diagnosis is confirmed, arthroscopic hip surgery may be recommended.
Articular Cartilage Injuries
Articular cartilage is a layer of material in the hip joint that covers the surface of the femoral head and acetabulum, cushioning them and allowing them to move against each other without causing damage. This cartilage sometimes tears or becomes damaged, either from high impact sports like running or jumping, as a result of friction caused by hip impingement, or from basic wear and tear.
When articular cartilage is damaged, the torn fragment often protrudes into the joint, causing pain when the hip is flexed. Also, the bone material beneath the surface no longer has protection from joint friction, which may eventually result in arthritis if left untreated. Articular cartilage injuries often occur in conjunction with other hip injuries, and like labral tears, may require an MRI with a dye injection to confirm the diagnosis. After confirming the diagnosis, your doctor may recommend arthroscopic surgery.
Loose Bodies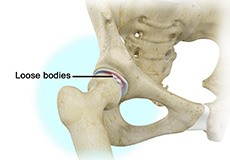 Removal of loose bodies is a common reason physicians perform arthroscopic hip surgery. These loose bodies are often the result of trauma, such as a fall, an automobile accident, or a sports-related injury, or they may result from degenerative disease. When a torn labrum rubs continuously against cartilage in the joint, this may also cause fragments to break free and enter the joint. Loose bodies can cause a "catching" in the joint.
Unlike some hip conditions, loose bodies are relatively easy to detect with modern x-ray techniques. Once diagnosed, the removal of loose bodies through hip arthroscopy usually results in a significant reduction in hip pain.
Nonsurgical Options
Prior to undergoing any surgical procedures, there are some nonoperative, conservative options for treating your hip pain that may be considered. They include the following:
Physical Therapy. An exercise program may be prescribed to strengthen the muscles in the hip joint and in many cases improve positioning of the hip and relieve pain.
Anti-Inflammatory Medications. Non-steroidal anti-inflammatory drugs or NSAIDs, may help temporarily treat inflammation and pain in the hip joint. Please note, however, that all medications have risks and should only be taken under the direction of your physician.
Corticosteroid Treatment. In some cases, your doctor may prescribe corticosteroids, such as prednisone or cortisone, if NSAIDs do not relieve pain. Please note, however, that all medications have risks and should only be taken under the direction of your physician.
Reasons for Arthroscopic Hip Surgery
Arthroscopic hip surgery is considered when other conservative measures have not provided the required pain relief. It's a positive measure to regain your active lifestyle that hip pain is preventing.

Arthroscopic hip surgery may:
Relieve Pain
Improve Joint Stability
Remove Loose Bodies
Repair Tears and Damage
Delay the Onset of Osteoarthritis
Delay the Need for a Total Hip Replacement
Improve Quality of Life
Optimize Activities of Daily Living