Patient Testimonials
Patient of the Month
Michael O'Neil
Dr.Seldes, Is by far; extremely diligent in his Orthopedic practice and care. Including all his team and staff along my journey to recovery- I couldn't see myself in better hands. His knowledge and dedication to treating my injuries was extremely helpful in his suggestions and procedures. After numerous injuries from a traumatic accident- he's done well for where I was. I couldn't say enough about Dr. Richard Seldes, just hands down- The Best!
Victor Clavie
Dr Seldes fixed my left shoulder 14 years ago and I feel great. I have been boxing throwing left jabs, hooks, and crosses. I can't thank him enough!
Clive Williams
I consulted Dr. Seldes for severe hip pain, he performed a hip replacement and the results have been just incredible. I resumed walking and I feel like running.
Post - Operative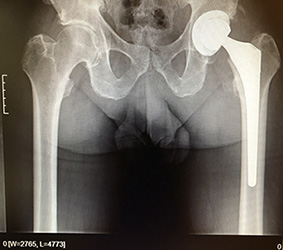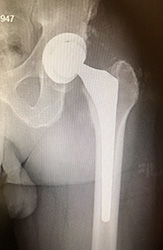 David Seppala-Holtzman
I spent one year in pain and a second in agony. After my shoulder replacement surgery, performed by Dr. Seldes, I am completely pain free. I am very grateful to him.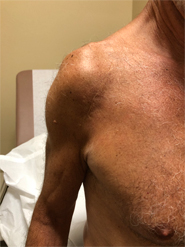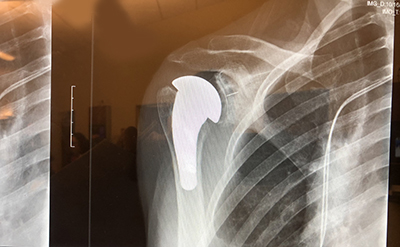 I am happy to see my great friend for over 30y and an outstanding rehab doc Jeff Pavell looking stronger than ever! Jeff is back in action after I repaired his ruptured distal biceps tendon through an 1.5 inch single incision.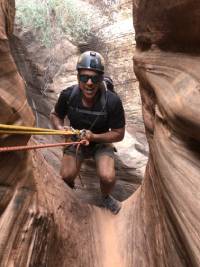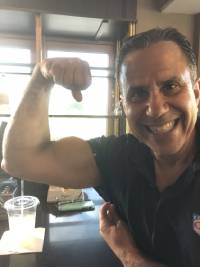 Testimonial
I cannot thank my great friend Dr Rich Seldes enough for giving me my procedure arm back. After surgery I was back to work doing procedures in two weeks. I am also working out again and doing my favorite outdoor activity, Repelling! My repaired arm looks and feels better than my good one.
- Dr Jeff Pavell
Laura Salzano
I am happy to write about my Orthopaedic Surgeon, Richard M. Seldes, M.D..
On January 5, 2016, I had a total right knee replacement. I had no idea who Dr. Seldes was only that he belonged to my Health Plan. Here I was a frightened 74 year old senior - not looking forward to this knee surgery - but wanting desperately my pain to go away. The idea of not knowing much about this doctor left me anxious and concerned with many sleepless nights.

Here it is five years later and thanks to this highly professional surgeon and his amazing hospital staff my knee is as good as ever. I had to work the knee during recovery - wait for the stitches to heal and received many compliments on my picture perfect beautiful scar. I am forever thankful to Dr. Seldes - his expertise in his field relieved my pain.

I am in need of a total left knee replacement in time. Once again, the thought of surgery is frightening but lessened due to knowing Dr. Seldes and his medical staff will be right there to guide me before and after surgery.

My family as well as my Right Knee and I are Blessed - Forever Thankful and Grateful to Dr. Seldes for a Job Well Done.
Steven Starr
Dr. Seldes is the best knee and shoulder doctor. My wife and. I were both treated by Drn Seldes.My wife's knee was replaced by Dr. Seldes.pure perfection. He treated my knee and shoulder. I am free of pain and have freedom of movement. He is the best.
Arbend Drishti
I've had a few surgeries in my lifetime and I can assure you that there are so many question marks about every surgery. The main one is, "Am I going to be better after the surgery or did I waste valuable time and endless therapy for nothing. Dr. Seldes is a man of few words but thats fine by me. My shoulder injury was a mess and very painful. I must say that I'm feeling great and am so happy with the results. I'm happy that I didn't go with Workmans Comps 1st choice and did my research. I give Dr. Seldes and his staff 5 out of 5 STARS!!! I highly recommend him. Thank you and good luck!

Cecilia Carlo
I want to thank Dr Seldes for everything he did for me. My knee feels so much better, thanks to him. i also want to thank the staff at the Forest Hills office. Everyone was polite, helpful and professional, especially Alberto - he is wonderful.
Milford White
Dr. Seldes repaired my shoulder more than 10 years ago. After rehabilitation and in less than 6 months my range of motion and strength returned to 100%. I am not in the medical field, so bare with me. The three ligaments/tendons that held my should in place had been severed. I my opinion, Dr. Seldes is highly recommend..
Yudelca perez
Richard Seldes is the best Orthopedist in the world, has great experience and infinite knowledge in his area, it should be noted that he has an excellent staff and professionals.
Dr. Seldes performed a hip replacement, a problem that I had been dragging since I was 8 years old and I can say that I do a wonder in me with his excellent work.
Marlene Tapper
Dr. Seldes is very professional, he takes his time to explain your personal situation and all options available to you. I have recommended him to friends and they were very pleased with their outcome and the support they received from his PA's and staff. A great medical practice with a lot of hands on expertise.
Rita and Wes Ragsdale
My wife and I recently had an accident during a reception after an event that we attended. The room for the reception had marble floors and first my wife fell after tripping on something she could not see on the floor and as I rushed to be with her I tripped over the same thing and fell hard as well. We both ended up in a trauma center. Dr Richard M Seldes, an Orthopedic Surgeon, was highly recommended to us. We made an appointment and they were able to set it up where he saw both of us together.

We were very nervous and his entire staff made us feel so comfortable that our nervousness evaporated and we were at peace. They were all so courteous with smiling faces. The office is well appointed, comfortable, well-kept and extremely clean.

When Dr Seldes came in to see us, we were immediately aware of his compassion for what had happened to us. In addition, we were pleasantly surprised that although he is well know for surgery, he never mentioned it to us in our first meeting and has not since. He is very caring, puts our well being ahead of everything else and it is obvious he wants what is best for our health. Our waiting time to see him in his office is minimal.
Levita Ileto
I'm extremely grateful to you for the successful surgery.
Sukhwant Walia
You have golden hands. Keep the magic and help people like me.
Larry and Luba Fox
Larry has found good results in the restoration of mobility to those areas of his body. God bless you with continued success in the performance of your great talent.
Donna Twiggs
I would like to thank you for restoring my quality of life. My family and I are very grateful to you and your team
Donna Costa
I had a very bad rotator cuff tear that several other top surgeons said was beyond repair. I found Dr. Seldes through an Internet search and he said he could help me. I went from being crippled with pain to being totally pain-free. I felt like a new person.
Linda Hoffman
Dr. Seldes I am so grateful to you for giving me my life back. I was in so much pain from my knee, I was in agony. Because of you I can now look forward to living my life again without the pain I had that was threatening to overcome me. I feel like I have had a miracle happen for me. I am once again so happy
Hip Arthroscopy Testimonials
Elizabeth Moran
I am writing to say how pleased I am with the results of my hip surgery. I had been in chronic pain, which had severely limited my ability to walk normally and exercise. After the initial recovery, I was able to move again without pain and begin exercising. I am now back to exercising 3-4 times per week without pain. I would do the surgery again in a minute and appreciate all the time and care Dr. Seldes and his team took to make the experience a very positive one.
Nicole Doering
As an avid triathlete and half marathoner, "surgery" to me is like a four-letter word. However, in late 2007, the pain in my hip was too severe to ignore anymore. Running even a few miles was excruciating. I was referred to Dr. Seldes from another surgeon who spoke very highly of his work and felt strongly that he would be the right surgeon for my particular type of injury. I had a right hip impingement with a torn labrum and needed surgery to correct the issue if I wanted to keep playing sports and prevent arthritis
From the moment that I had my first consultation with Dr. Seldes, I knew that I was in good hands. I had never had surgery before, so suffice to say I was terrified! He talked me through everything, assuaged my fears and provided a little levity to an otherwise unnerving situation. His staff was very willing to answer any of my questions (of which I had many!) and never once was I made to feel like I was being overly neurotic or was irritating them. I must say that I was truly impressed with the all over level of professionalism and courtesy that I was treated with by both Dr. Seldes and all of those who work with him.
Three months after my surgery and I was already about half way back to my previous level of conditioning. Five months and I was running and cycling like nothing had ever happened! The pain in my hip is gone and I for the first time in a long time, I can now go about my daily business and training without thinking about the nagging pain in my joint. I know that my surgery was a success; I feel it everyday in everything that I do. I also know that a very large part of the reason for that success was the fact that I had a very, very good surgeon.


I went to Dr. Seldes for pain in my shoulder. I was very worried that I would need surgery but he said it was a slight labrum tear and that with physical therapy I would most likely not need surgery. He was very nice and answered all my questions. I didn't feel rushed. I like the fact that he didn't want to rush to operate and wanted me to try other alternatives first. He recommended a great physical therapy place and I am feeling a lot better. Excellent doctor!
Write a review
If you're interested in submitting a testimonial for Richard M. Seldes, MD, Please use the form below to do so.
Thanks!
Fields marked ( * ) are required